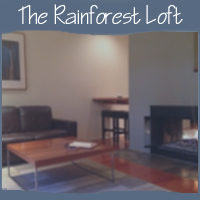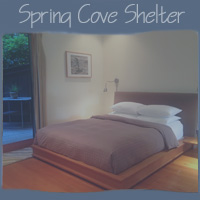 Drive over the causeway onto Hyphocus Island, enter your self-contained suite, and allow your West Coast getaway to unfold. Our custom designed westcoast home is nestled in the coastal rainforest on the edge of Spring Cove.
While perched on your private deck, watch the tide ebb and flow as the great blue herons, bald eagles, and deer explore their natural environment.
Enjoy a candle lit bath in your deep, double soaker tub, surrounded by gentle air jetted bubbles. Step out and onto heated slate floors and wrap yourself in a plush robe.
From your private living area, or your bedroom, relax to the warm glow and sound of your crackling wood fire.
We offer a fresh delicious breakfast to enjoy after a rejuvenating sleep. Please ask us for details.

In each self-contained private suite you will find:
air-massage double soaker tubs
doublesided woodburning fireplaces
wireless internet access
views of Spring Cove and surrounding wildlife
native fir and cedar custom designs
luxurious queen bed area
spacious living area
mini fridge
and flat screen television.

Gourmet meal packages and room service may be available upon request.
Hyphocus Inn is less than a 5 minute drive to the Wild Pacific Trail. We are 10 minutes away from the Pacific Rim National Park.